Last weekend, weather conditions prevented any birding – with gale force winds and intermittent rain from Friday through until Tuesday. Because of this, Cathryn and myself were both keen, should the weather co-operate – to head out and try get some birding done. Come Saturday late morning, we found ourselves looking at the options. The weather was less than co-operating, but nothing too terrible either. The conditions were heavily overcast, but rain seemed very light and isolated to certain areas, with breaks in the clouds allowing for some sunlight at times.
We ended up coming with two options, we could either target the Franklin's Gull and the Pectoral Sandpiper at Strandfontein or go look for some Lemon Doves and possibly a European Honey Buzzard at Kirstenbosch. We ended up opting for the latter and headed off in that direction, but along the way it was clear that the closer one got to the mountain, the heavier the rain – so while on route, we made a detour.

It was then off to Strandfontein Sewage Works where we hoped to see one of the two rarities that had been reported there over the past week, though I was also hoping for a Hottentot Teal, a bird that has continued to evade me. We arrived to a dark sky, but also to a number of Greater Flamingos and Black Winged Stilts, wading in the shallows of the first pan on our left, after entering the gate. We stopped the car and got out, getting close enough for some decent photographs, despite the terrible lighting.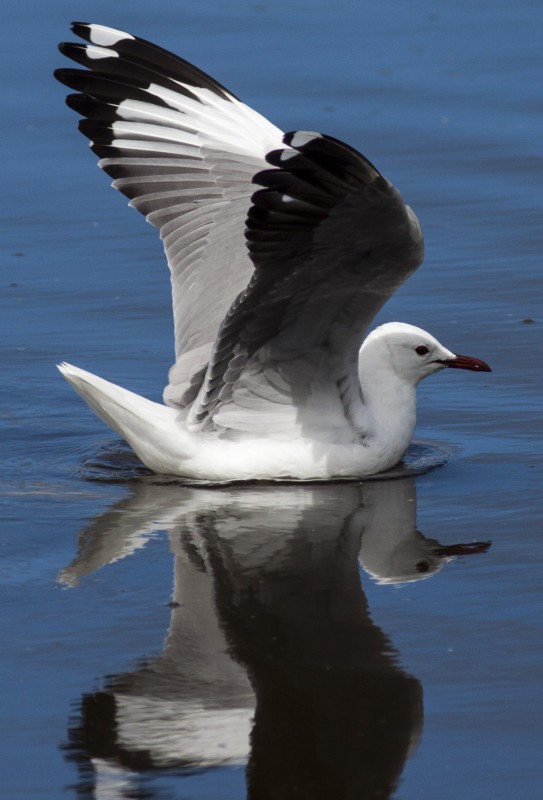 We then moved on, at the next pan things were relatively boring with Red-Knobbed Coots, Cape Teal and Cape Shoveler. It was at this time we saw an African Fish Eagle off in the distance, as well as the unusual sight of a single Pied Crow taking on a flock of large Great White Pelicans – and seeming to win. On the pan to the right things were very quiet with only a couple of Pied Avocets seen.
We continued straight, past the center point of the pans and went through, then taking a left. It should be noted that last time I visited Strandfontein, I managed to get hopelessly lost and ended up driving on sand dunes and traveling a total of 20 kilometers in circles without managing to get out, it was terrible. This time I bought the Southern African Birdfinder book, mainly because it had a map of Strandfontein Sewage Works in it… So I was hoping this time would be different.
So we continued around the main large pans, with the S-pans on our right. We stopped just before S4 after seeing countless Egyptian Geese and Red-Knobbed Coots. We got out the car and decided to walk to S7, to look for the Black Necked Grebes, as Cathryn still needed one for her life list. We couldn't see any though and I was a bit scared to wander too far that direction, as that's where I managed to get lost the last time. We stood around, listening to the Warbler calls from the reeds in front of us. Sacred, Hadeda and Glossy Ibis were all present – along with a pair of Spur-Winged Geese. An African Marsh Harrier floated in the breeze off on the other end of S7. About 10 minutes later, we noticed the Marsh Harrier had met up with another one and they were hovering low directly where the car was parked, after some mean words towards the birds for their incooperative timing, we headed towards them, but by the time we came close enough – they were already flying down past S4. Swift Terns, Pelicans and Gulls continued to pass over us as we walked back to the car.
Once back at the car I was quick to open up the book and find our location, and plot out where we would go. I headed down the road between S4 and S7, which on the book – had another road connecting to the main route on the other side of the S4 pan. Oh how wrong it was… Despite the book appearing to have a road up that area, it was not accessible via a car. And the road was too narrow to turn around – our only option was to blast through knee-deep sand in a Golf Mk3… Not an easy task, but we managed to get through it without getting stuck (just). We then reached the next point where I was able to recognize where we were, again a place that I had no intention of driving through- I had taken that route with Megan Loftie-Eaten and Pieter LeGrange back in early 2012 and it was not an easy ride for the car. So we turned back and went through the sand again, this time being even closer to getting stuck. I had to battle the steering wheel like a wild lion.
We eventually got back to the main pans and it was then a case of getting the hell out of there – without any Franklin's Gull, Pectoral Sandpiper or Hottentot Teal.
There must be some secret to Strandfontein that I am not away of, there must be some pans that I haven't visited, because out of all the pans I drove past, none looked particularly liking ponds for waders, apart from the small pond on the left of the entrance. But imagine my horror when I get home, open up facebook and see that others there on the same day had seen the Pectoral Sandpiper. Clearly I must not go there again until I am with someone familiar with where which species typically are…
Off to Rondevlei
We originally were going to head home, but with Rondevlei having a bathroom and Cathryn needing one, it seemed like an easy choice to include some more birding into the day.
We entered and were greeted by a few Southern Double Collared Sunbirds. We then went into the first hide, a woman there alerted us to a Goliath Heron just behind the reeds. A species that while I had seen before, remained a lifer for Cathryn, and I was yet to get a decent photograph of one myself. We spent some time photographing this large Heron, hoping that he may get active as they are extremely impressive when they expand their wings, but he was like a statue for the most part. A Three Banded Plover was also present to the right of the hide, adding another species to Cathryn's rapidly expanding life list.
The next hide saw us get visuals on African Purple Swamphen, Grey Heron, Reed Cormorant and a few other common species. And it wasn't long before we moved on further. The next hide held only a small amount of action in the presence of a Black Winged Stilt which was feeding in the waters just in front of the hide.
A Caspian Tern flew through and was bugged by a mob of Hartlaub's Gulls. Though elsewhere at the final hide it was just Darters, Cormorants and Gulls.
On our way back to the car we got a very nice showing by a male Southern Double Collared Sunbird that was in moult. Though still pretty enough for his iridescent feathers to shine brightly in the late afternoon sun. A Small Grey Mongoose also showed itself nicely in the path in front of us.
While I ended up essentially dipping on three birds at Strandfontein and seeing nothing new, Cathryn managed to get another 5 or so birds added to her life list, now bringing her to a total of 144 species, which is not bad considering she's only been listing for a few months. It's a good thing she doesn't go out without me really, or I may be in threat of her catching up with my number, which spent a good period of a year on the same digit due to lack of effort on my behalf.
It was an enjoyable experience, as most times that one gets to be outside looking at birds are.
The next hide was fairly quiet, as was the next.